Our instant chicken is ready to eat directly from chiller and no cooking is required. 
Our products are packed in food graded pouches. These food grade pouches are high-temperature resistant and are absolutely safe to be boiled and cooked according to our instructions without affecting the food contents.

If stored in freezer, best to bring it to the chiller for one day to allow gradual defrosting before consume. 




Cut off one edge to release steam and heat up for not more than 1 minute.

  


Bring water to boil and submerge the package into the water for 90 seconds.


Complement any meal with our instant chicken or follow our social page for inspiring ideas. 
Reminder : Do not overheat or overcook as our chicken breast is fully cooked prior to packaging.
Storage : Under 0-4°C at chiller best consume within 7 days. 

Under -18°C at freezer best consume within 2 months. 
Each pack contains about 100 gram of lean and cooked chicken breast, this is 30 gram of protein. 
It can be consumed as a snack or add to meal for a person portion. 
NUTRITION INFORMATION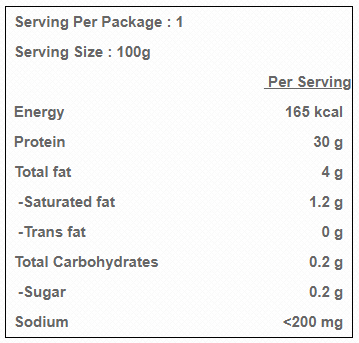 * For reference only